Welcome to Durham Parks & Recreation
Our Mission
Durham Parks and Recreation offers a wide range of quality programs, parks, and facilities that encourage all community members to participate in healthy, fun, and enriching activities. Together, with the residents of Durham, we celebrate the essential role public recreation plays in fostering a cohesive and vibrant community.
DPR Programs & Registration
Durham Parks & Recreation has a full slate of programs for all ages! Visit the
Programs
Tab
to check out all that we have to
offer and to
Register
!
Durham 2020 Compost Challenge
The Durham Integrated Waste Management Advisory Committee has been looking at ways to improve the town's solid waste program. Dramatic changes in the value of recyclable materials and concerns with future landfill space have challenged us to look for new solutions that are both environmentally and economically sustainable. Removing organic material from the solid waste stream through a composting program appears to be a promising idea. The committee is looking to run a pilot program to determine the ratio of household composable to non-compostable waste. We are look for at least 20 families to participate in a 6-week program that will provide us with data to help us develop a community composting program. Register Here.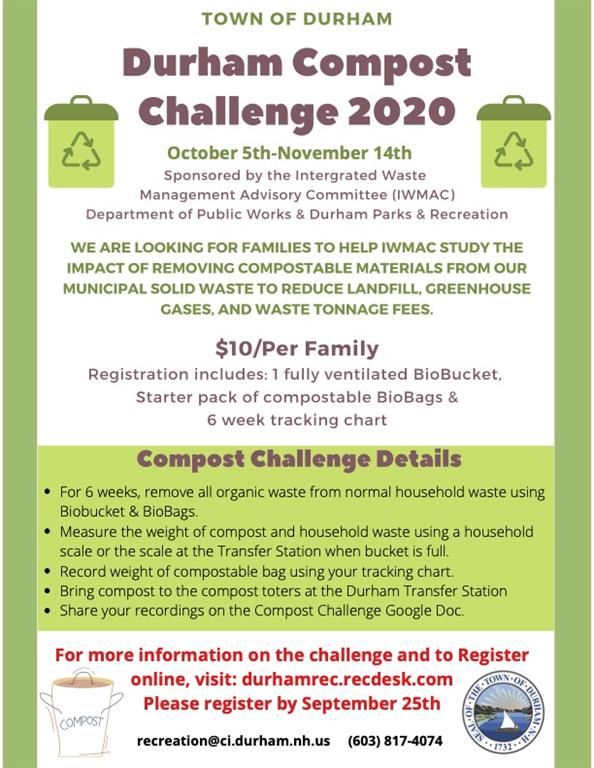 Durham Playgrounds
Jackson's Landing Playground and Woodridge Playground will re-open for play on July 1st.